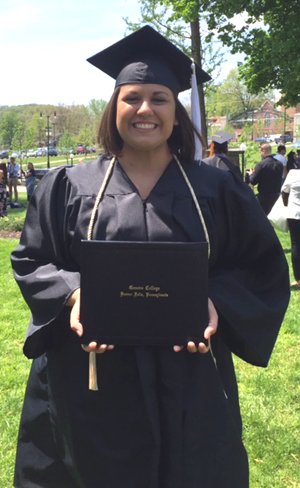 I was in my second freshman year of high school, planning to eventually drop out. During my first interview for [Boys Hope] Girls Hope, I remember telling [the program director] that what I really needed was someone who cared about me enough to push me. She must have seen something in me that day, because shortly after, I became a Girls Hope scholar.
Prior to entering Boys Hope Girls Hope's long-term scholarship program, Tammy was living in an unstable household where education was not a priority. Instead of being urged to focus on her studies and do well in school, she was encouraged to drop out and start working. When her mother became homeless, she began to consider legal emancipation. Then she found Boys Hope Girls Hope.
Although Tammy had successfully secured a spot in the Boys Hope Girls Hope program, she found the transition challenging. Coming from an environment with no structure or discipline, she struggled to meet her new expectations. Doing homework, getting good grades, reading in her free time, completing chores, and even eating at a dinner table with other people were all experiences that were foreign to her before moving into our home in Coraopolis. Tammy believes that, in some ways, it was the small things that were the hardest to adapt to.
"I didn't realize at the time how much anger was built up in me before coming to [Boys Hope] Girls Hope," Tammy said. "It took about a year in the program before I started to let my guard down. While the schoolwork and schedule took some time to get used to, I slowly came to understand that these people were here to help me and that they truly cared about me. These people didn't see me as a broken, angry kid. They saw me as a brilliant young lady who needed to see her full potential."
Within her first year of attending Our Lady of the Sacred Heart High School, Tammy received all As and Bs. Her hard work and determination paid off, as she graduated from Geneva College with a degree in Youth Ministry in 2016. After graduation, Tammy spent time aiding refugees overseas. She recently accepted a teaching position at an international school and is currently living in China.