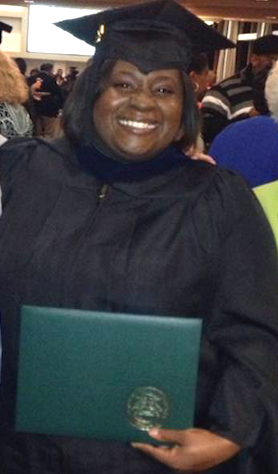 Boys Hope Girls Hope was my saving grace. It was the best experience of my life.
Like many other young women who enter our long-term scholarship program, life for Tiana was less than ideal. A chaotic environment and detrimental family situation had her in between temporarily living with family members and sharing a home with her mother and four sisters in low-income housing. When she came to Boys Hope Girls Hope, she says it was because anything was better than the situation she was in. However, by the end of her pre-placement stay she knew she had found the right place to call home.
"It was like a fairy tale," Tiana says of the experience.
When she moved into our house in Clinton (which has since been replaced with our Coraopolis home), she fit right in.
"It felt like a home," Tiana explains. "It felt like a family. For a lot of us, a lot of our first experiences were with [Boys Hope] Girls Hope: my first time on a plane, my first vacation, and my first time at the beach. How would I have experienced that without [Boys Hope] Girls Hope?"
Boys Hope Girls Hope provided Tiana with another first experience – the opportunity to receive a high-quality education where instructors would challenge her to reach her full academic potential. Although Tiana describes herself as a "nervous wreck" before beginning her first day at Our Lady of the Sacred Heart High School, she quickly immersed herself in opportunities that had previously never been available to her, including honors choir and sports. Tiana's dedication and determination rewarded her in 2005 when she became not only the first member of her family to graduate from high school without children but the first member of her family to be accepted to college, as well.
Following what felt like thousands of college tours, Tiana fell in love with La Roche College. While pursuing her undergraduate degree, she served as a member of La Roche's Student Government and President of the Resident Hall Association. She received a distinguished student award while never losing touch with her Boys Hope Girls Hope family. In 2009, Tiana earned her Bachelor of Arts degree in Human Services, but she didn't stop there.
After holding several positions at institutions, including UPMC Western Psychiatric Institute and Clinic, the Allegheny County Jail, and Renewal, Inc., Tiana was accepted into Point Park University's Criminal Justice Administration accelerated graduate program. When she began to feel the pressures of working full-time while attending school full-time, her Girls Hope family was there to support her.
"[Sister] Donna and [Sister] Rosanne came to my house and had dinner, and I remember telling them, "I don't think I am going to come back next semester," Tiana says. "But they encouraged me to keep going. No matter how much people said I couldn't do it, they knew I could."
In addition to the support of Sister Donna and Sister Rosanne (who played influential roles in founding [Boys Hope] Girls Hope and with whom Tiana maintained a close relationship since she was first admitted to the program), she says even one of her residential counselors was there to offer support during this turbulent time in her life.
"Just like she was my [residential counselor] again, she picked me up and made me food," Tiana recalls of one particular situation. "She wasn't even a [residential counselor] anymore, but she would still come and do laundry and cook meals for me."
Once again, Tiana's strong work ethic and commitment to a successful future paid off when she graduated from Point Park University in 2013 with a Master of Science degree in Criminal Justice Administration. Her Boy Hope Girls Hope family was in the stands, proud to watch her walk across the stage and watch her hooding ceremony.
Currently, Tiana works at the Pennsylvania Commission on Crime and Delinquency as a Criminal Justice Systems Planner managing federal and state grants. She remains an active member of the Boys Hope Girls Hope family as she returns to our residential homes to speak with current high school scholars about college, careers, and her experience in the program.
"Sometimes the girls have a hard time being in the program," Tiana explains. "I understand, and I try to validate their feelings. I tell them, "Look at this amazing opportunity that only 16 girls in Pennsylvania can get!'"
When visiting our homes, she says she loves interacting with our current scholars.
"They are such fantastic girls with such potential," Tiana exclaims. "It is amazing to feel the drive these young women have, and it has made me proud to be a part of [Boys Hope] Girls Hope."
It is safe to say that Tiana's own drive and determination have brought her a long way since her time as a scholar.
"It has been a trip," Tiana says. "If it wasn't for Donna and Rosanne giving me an opportunity and a chance, I don't know where I would be. It is because of [Boys Hope] Girls Hope that I am who I am."